Articles

Spain's sickening 'blood fiestas' make bullfights seem tame - but the most shocking thing about them is YOU'RE paying for them
By Danny Penman In Tordesillas - 19th September 2010

Marcos held aloft the bloodsoaked bull's ears and bowed deeply to the crowd. Moments earlier he'd sliced them off the young bull, which now lay on one side, blood pooling beneath him.
But the poor creature wasn't quite finished yet. In a pitiful act of defiance, he mustered just enough energy to raise his head a few inches off the ground and tried to stare down his attackers.
Marcos responded by unsheathing a vicious looking knife and stabbing him in the back of the neck for a second time. The bull's head flopped back into the dust — he was finished and Marcos, the amateur matador, yelled in triumph.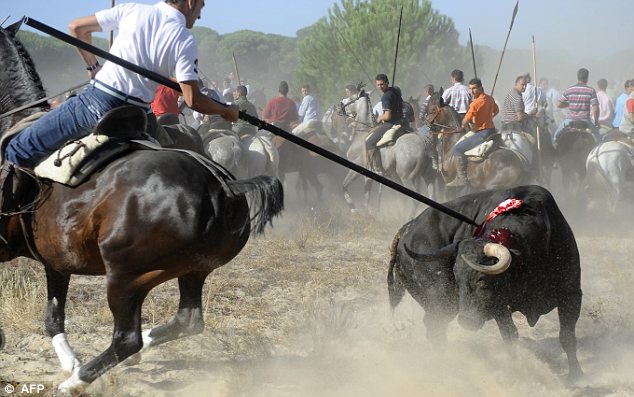 Sickening: Blood fiestas are not performed for the entertainment of tourists. They are gruesome traditions that kill thousands more animals than bullfighting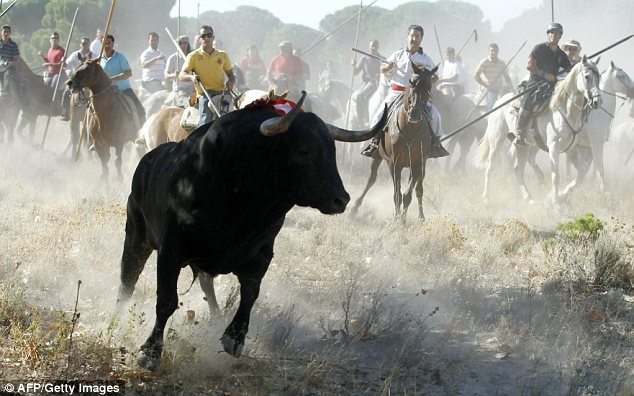 Under the radar: Blood fiestas kill thousands of bulls every year, yet millions of the Britons who visit Spain every year will be unaware of their existence

As the official killer of the bull, he had won the right to parade the animal's coveted ears, tail and testicles around town on a ceremonial spear.
He had also been granted permission to eat the bull's testicles - widely regarded in Spain as the choicest of all cuts of meat and a rare honour indeed.
In the eyes of many, Marcos Rodríguez San José was truly king for the day.
Casual brutality towards animals is, of course, well known in Spanish bullrings, but the sights I witnessed last Tuesday, during the annual Toro de la Vega 'blood fiesta' in Tordesillas, were as sickening as they were brutal.

What is more, such blood fiestas are far more common than the more famous and well-known sport of bullfighting. Blood fiestas are not performed for the entertainment of tourists. They are gruesome traditions that kill thousands more animals than bullfighting — often in the most barbaric ways imaginable.
Yet millions of the Britons who visit Spain every year will be unaware of their existence.
The Toro de la Vega is a case in point. It's a centuries-old tradition in which a bull is chased through the streets by thousands of men who beat it with sticks and pelt it with stones. Although this is chilling to watch, it is only when the bull reaches the meadows outside Tordesillas that the spectacle begins in earnest.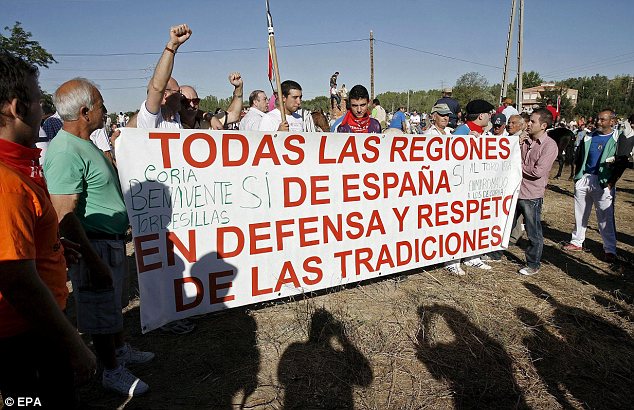 Local tradition: Blood fiestas are a centuries old tradition, but should this barbaric custom really be celebrated and paid for the the European union?

The bull whose brutal death I witnessed had been given the name Platanito (meaning 'little banana') by animal welfare officers.
I watched as men on horseback tried to skewer it with their eight-foot long spears. Spear after spear sliced open his back.
Once his strength began to ebb, the men became increasingly bold and moved in closer. This was the bit they clearly loved most of all — a time when they could begin to play with the bull without serious risk of injury to themselves.
I watched as one horseman impaled the creature and twisted and turned his spear deeper and deeper into him.
This seemed to fatally weaken the animal and he fell onto his front knees snorting and bellowing — his distress apparent.
Within moments, several more spears had pierced his body. Finally, Marcos stepped forward to deliver the fatal blows to the bull's heart and neck. It was, mercifully, the end of Platanito's suffering.
Although the Toro de la Vega is undoubtedly horrifying to witness, what is equally shocking is the fact that we are all helping to pay for it.
The European Union spends £37 million a year directly subsidising blood fiestas like the Toro de la Vega and other sports, such as bullfighting. It also ploughs tens of millions of pounds into the towns that host them and has begun renovating dilapidated bullrings.
As if that weren't bad enough, now some MEPs are campaigning to have bullfighting and blood fiestas officially recognised as part of Europe's cultural heritage.
If this should succeed, then not only will the Toro de la Vega be given an official veneer of respectability, it may eventually become eligible for European arts and cultural funding.
'We're all tightening our belts in Britain and yet our money continues to flow into bullfights and blood fiestas across Spain,' says Jaqueline Foster, Conservative MEP and vice-president of the European Parliament's Intergroup on the Welfare and Conservation of Animals.
'The Spanish can support these fiestas with their own money, if they want to, but there's absolutely no way they should be using ours to do so. I have been unable to find a single good reason why we are being forced to pay for these horrible sports.'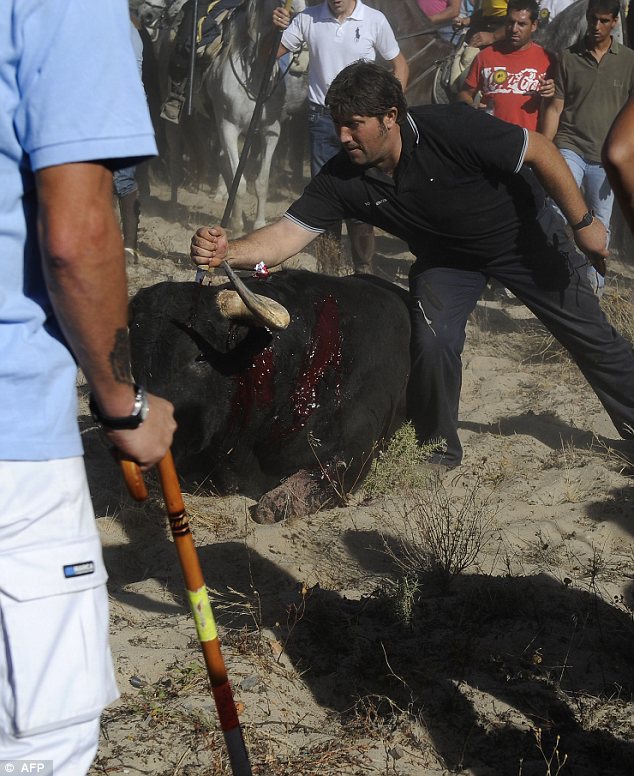 High price to pay: Spain sacrifices at least 40,000 bulls a year, making the EU¿s annual subsidy to the industry almost £37 million

I decided to delve into the EU's Byzantine bureaucracy to find out why it is spending so much of our money supporting blood fiestas and why it appears resolutely determined to carry on doing so. And, perhaps predictably, it turned into a tale of bungling, patronage and, some might say, corruption.
The trail begins 100 miles west of Madrid at Finca Valdeolivas, the farm that bred Platanito. It's a lavish estate set in beautiful countryside owned by the Gil family.
Judging by the number of expensive cars and pick-up trucks parked in their driveway, they must be one of the richest families in the area. Finca Valdeolivas is in the heart of Spain's fighting bull country and it's clear the Gils are taking full advantage of it.
Hundreds of the animals graze contentedly in the long shadows cast by cork and oak trees. Sleek Andalusian thoroughbred horses, raised as the mounts for bullfighting picadores, lie in nearby sun-drenched fields. It is a rural idyll — and one largely funded by northern European taxpayers.
I tried to talk to Don Miguel Ángel Gil Marín, head of the family that owns the Finca, but he declined to answer my questions. I was, however, able to examine the EU's accounts and discover that Finca Valdeolivas received at least £139,000 in subsidies last year.
It is impossible to say what proportion of this money directly supported the rearing of bulls for blood fiestas, but the farm certainly seems to specialise in breeding them. The majority of the money flowing into Finca Valdeolivas is from the Common Agricultural Policy's Single Farm Payment scheme.
This pays landowners a fee for managing the land, leaving them free to farm it in any way they choose. The idea is to reward landowners for farming less intensively and to cut back on the type of over-production that led to the infamous wine lakes and butter mountains.
This scheme encouraged landowners in Britain to progressively switch to more environmentally friendly farming practices such as organic and freerange. In Spain, farmers are using the money to rear animals for blood fiestas and bullfights.
In effect, every bull they rear for a blood fiesta earns them £183 for every year of its life. The EU rewarded Finca Valdeolivas with £915 for breeding Platanito for the Toro de la Vega.
Given that Spain sacrifices at least 40,000 bulls a year, the EU's annual subsidy to the industry totals almost £37 million. Since the new subsidy scheme was introduced in 2005, the EU has spent £185 million supporting blood fiestas and bullfighting.
By the end of next year, the total will likely top a quarter of a billion pounds. But even this is likely to be the tip of an iceberg, as the exact subsidy figures are disguised within the EU's maze of bureaucracy.
Spain receives £4.3 billion in agricultural support every year. Campaigners fear that a significant proportion of this is siphoned off to provide more animals for fiestas across the country.
Spanish towns and cities also receive an array of grants to help them preserve their cultural heritage. The country now receives £1.1 billion a year from the EU's Rural Development Programme, for example, a proportion of which is being used to renovate bullrings. In the towns of Haro, in the province of Rioja, and Toro, in Zamora, the EU is so proud of its support that it has erected big signs outside the bullrings highlighting its contribution.
It's virtually impossible to find out exactly how much is funnelled into bloodsports through such grants because the EU cannot, or will not, divulge how it spends its money. Northern European taxpayers are not just helping pay for bulls for blood fiestas but also for cows, goats, chickens and geese, too.
Up to 15,000 towns and villages sacrifice animals as centrepieces of their fiestas — often out of the gaze of tourists and the media. Some involve hanging chickens upside down by their feet on washing lines while townfolk ride underneath and pull their heads off to win prizes.
Another involves placing chickens in boxes with their heads poking out of the top. Local men and boys then chop off as many heads as possible while blindfolded. In yet another fiesta, birds are sealed inside clay pots and stoned to death.
Although such cruel games are now theoretically banned, they are still common throughout Spain. This may be because the country's animal welfare laws have one curious exemption: animals may be mistreated so long as it's necessary for the smooth running of a fiesta.
Even if a blood fiesta does not involve the immediate death of an animal, it can still inflict grotesque cruelty.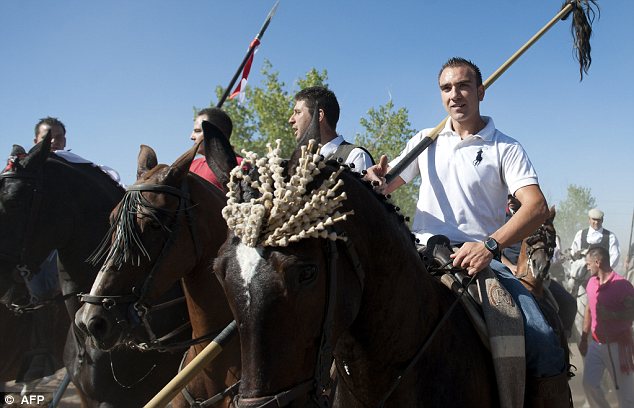 Raking it in: Since the new subsidy scheme was introduced in 2005, the EU has spent £185 million supporting blood fiestas and bullfighting

Next month, for example, Spain's fire-bull festivals begin. In these, burning balls of wax and paraffin are attached to a bull's h orns and the terrified animal is chased through the streets. Most survive, but they often suffer horrific injuries. For its part, the European Commission (the executive body of the EU) says it genuinely does not know how much money it is pumping into Spanish blood fiestas.
'The member states and our cultural partners are responsible for selecting the projects that we fund,' said a spokesman for the European Commission.
'We do not know, for example, if a bullring that has been renovated with our help is being used to host bullfights or not.' Perhaps this attitude is not surprising, as the EU's accounts are notoriously opaque. Independent auditors have thrown out the EU's accounts for 13 out of the past 15 years because they failed to provide 'a true and fair account' of its spending.
Auditors generally use such phrases to signal either incompetence or corruption — or both.
'It's impossible to say how much money is being siphoned off,' says Tony Moore, director of the British charity Fight Against Animal Cruelty In Europe.
'Blood fiesta organisers certainly think it's a lot. They tell me that in the past they could only afford to sacrifice one or two animals whereas now they can torture and kill ten.' He notes that support for the fiestas and bullfighting exists throughout the upper reaches of the EU.
The Portuguese President of the European Commission Jose Manuel Barroso is a keen supporter. He overturned Portugal's 76-year-old ban on 'death bullfighting' when he was the country's prime minister. Animal welfare campaigners fear that if the blood fiestas gain the official European seal of approval then the EU will start pouring even more money into them.
Ironically, just as MEPs are calling for enhanced support for bullfighting and blood fiestas, the Spanish are increasingly turning against them. One recent poll found that 60 per cent of people opposed bullfighting.
Another suggested that only a quarter had any interest in it and that such support is largely confined to older generations. This gradual shift in attitudes came to the fore in July when Catalonia's regional parliament voted to ban bullfighting.
The ban has shocked many old school Spaniards who are keen to dismiss it as no more than a bid by the independent-minded region to carve out its own distinct identity. They insist that bullfighting and blood fiestas such as the Toro de la Vega are not cruel.
Instead, they claim that it's a beautiful form of art that is central to Spanish culture. When I watched Platanito die last week I saw no evidence of the beautiful art and rich culture that Spain is famous for.
What I saw was a celebration of mob rule, of cruelty, of wickedness, even. As I watched Platanito's eyes close for the last time, I felt sick to my stomach to know that I had helped pay for his death with my taxes — just as you had too.

http://www.dailymail.co.uk/news/article-1313480/Spains-sickening-blood-fiestas-make-bullfights-tame--shocking-thing-YOURE-paying-them.html?ito=feeds-newsxml

Horses - the forgotten victims of bullfighting
by Maria Lopes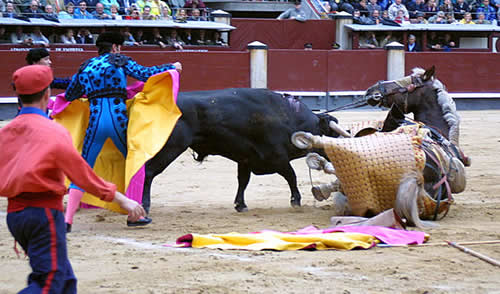 This photo is from 2001 in the bullring of Madrid.



What is a bullfight, and who suffers in this bloody so-called sport?

In Anglo-Saxon countries it is regarded as a sport, perhaps due to lack of knowledge.

It is, after all, banned throughout the UK and the Commonwealth nations, as well as most of Europe. In countries where bullfighting is allowed it is increasingly becoming recognised as sheer barbarity. This savagery involves two beautiful animals, bulls and horses. While the bulls are guaranteed to die, the future of the horses is often no brighter.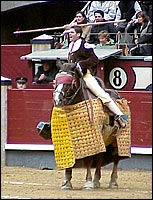 Bullfights take place in three European countries, France, Portugal and Spain and in some parts of Latin America. In some states of North America a form of bullfight is permitted but the animal is covered with velcro and the spears used are imitation.

It's commonly believed that in Portuguese bullfights bulls or horses don't suffer unlike the Spanish versions. This is unfortunately a myth since the suffering is the same in both bullfight styles.

The only difference is that in Spanish bullrings the bull is killed in the ring instead of in the slaughterhouse when the "entertainment" is over.

Every year more than 50,000 bulls are killed in bullfights in Europe alone. Countless horses die or suffer severe injuries.

Bullfighters claim that bulls bred for bullfights are aggressive and fearsome animals. This is also untrue. They fight because they are fighting for their lives.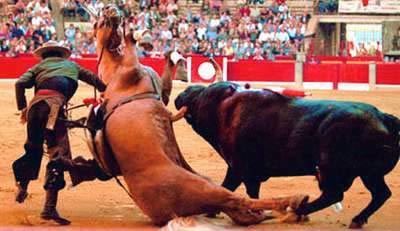 This photo was taken during a bullfight in Spain. The horse was killed.



But bulls are not the only creatures to suffer in bullrings. The tormented bull does not understand that it is the man on the horse's back that is causing his pain, only that he is in agony. He therefore sees the horse as his enemy as much as the man.

It's not unusual for horses used in bullfights to be so badly gored by the bulls that they have to be killed, but only after they have been dragged from the ring and the view of the spectators.

Spanish bullfights also employ "picadors", men on horseback armed with spears.

These horses are often gored even though they are protected by what is termed a "peto", or a protective cape. These petos often do little more than hide the horses wounds.


The horses are blind-folded to prevent them from becoming terror stricken at the charge of the bull. It is commonly believed that their ears are stuffed with cottonwool to prevent them from panicking and their vocal cords cut to stop them screaming with fear at the bull's attack.

As little as 12 days ago in Madrid another horse was gored by a bull and had to be killed.

This is the fate of these beautiful animals. To be used to entertain a crowd that lusts for blood and claims that bullfighting is a tradition and "cultural heritage".

What about the brave matadors, picadors and their ilk? Bullfighters are rarely injured and seldom killed in the ring. With their armoury of weapons to weaken the bull until it can no longer fight, their lives are not at great risk. In fact, in the last 50 years only 10 bullfighters have been killed worldwide.

Should you ever find yourself in a country where bullfighting is practiced, please do not be tempted to attend one of these sadistic displays. The continuation of bullfighting depends on government subsidies and the tourist industry. Don't be an accomplice to this savagery by supporting it with your dollars.

Published in Horsetalk, New Zealand, June 2006.


The World's Cruelest Sport
William Buchheit

If only death was the worst thing about bullfighting, the so-called "sport" wouldn't be such an atrocity. But as I watched the slaughter unfold from the sixth row of Barcelona's Plaza de Torros a few weeks back, I realized the execution of the bull was the most merciful part of Spain's national pastime.


I can only hope that no other legal form of animal abuse in the world can rival the cruelty, torture and complete demoralization demonstrated in these weekly events. What passes as art, sport, tradition and ritual in the ancient stadiums of Portugal, Mexico, France and Spain is a brutality so cold, an evil so guiltless, and a savagery so surreal, it's like being in the acidic grips of a nightmare.

Ever had a spinal tap? A doctor inserts a long needle between your third and fourth vertebrae and pushes. Once he feels a "give," indicating your dura mater has been penetrated, he withdraws some of the fluid right out of your spinal chord. I underwent two such procedures nearly 13 years ago and the very memory is enough to shoot fear into my abdomen.

Being a bull in one of these horror shows must be like getting a half-dozen spinal taps and then thrown into a puddle of gasoline. All the while, as the seconds of physical and mental annihilation drip away, a Catalan brass band beckons death with each note of their instruments.

Using long, sharp lances, an assistant on foot and another mounted atop a blindfolded horse spear the bull repeatedly in the neck, shoulders and spinal chord. Suddenly, the matador has a decisive upper-hand, as nerve damage, organ puncture, blood loss and terror slow the once formidable beast. Now even the slightest movements send hot jolts of pain through his harpooned muscles into his stupefied brain.

With chest heaving, head drooping and blood and urine leaking from it's ravaged body, the bull can do little more than wait for the end to come. But death is patient, too patient, and the 20-year-old matador taunts the harmless animal as rabid fans chant, whistle and clap. As the killer grabs the fading animal's horns, the warm blood reflects off his shiny uniform, glistening in the setting tangerine sun.

For a moment, the matador almost looks tender and compassionate, like a boxer who hugs his defenseless opponent in the corner instead of sending him to the operating table with a final ruthless shot.

Once he reaches for the sword, however, any illusions of humanity crumble and fall like disks at a rifle range. At last, the young man tries to finish the dying beast off by driving the sword into his racing, thudding heart.

Only he can't hit the mark. So the animal stands and watches, bright blood leaking from his mouth, his head too heavy even to look his tormenter in the eyes. In the next interminable moments, the bull emits a series of horrible grunts as his lungs, spine and flesh are ripped apart like envelopes.

At last, the bull crumbles. His big black eyes bulge one last time as two thugs appear from below to finish him off. Using the arena wall as cover, they stab at the animal's head and throat with knives small enough to fit in a child's pocket. The animal's blood-soaked tongue creeps limply from his mouth and falls into the sand, as if trying to escape from some unmentionable hell. When the gasps and convulsions stop, the corpse is tied to two horses and dragged around the arena, leaving a snaking pink trail behind.

The crowd hoists white handkerchiefs in the air, chanting and applauding the matador as he takes a bow around the ring. The band blasts into a victory song.

As I rub my eyes, fight off a chill and try to swallow, the fans surrounding me continue to jump around and dance. A team of men sprint in to plow and rake the rink. The blood-sprayed sand is covered and smoothed.

And just when you start trying to forget what you just saw, the band fires up its Satanic call and another bull rushes through the gates into a hell all its own.

http://www.hometown-news.com/addedValuesPI/stories/storyReader$921

"Barbarism in the Afternoon: Bullfighting, Violence, and the Crisis in Human Identity" by Dr.Steven Best

"We have enslaved the rest of animal creation and have treated our distant cousins in fur and feathers so badly that beyond doubt, if they were to formulate a religion, they would depict the Devil in human form." -- William Ralph Inge

Spain is the third largest of the European countries and, without question, one of the most beautiful on the vast continent. From the surreal architecture of Antonio Gaudi in Barcelona to the stunning Moorish palaces of Granada, from the snowcapped mountaintops of the Sierra Nevada to the hilltop towns of Pueblos Blancos, from the gorgeous beaches of Costa del Sol to the marvel of the Balearic Islands, from the frantic metropolis of Madrid to the serenity of Ordesa National Park, Spain offers a treasure trove of beauty sure to steal your breath away.

The Spanish people have a beautiful language, a rich and varied culture, and a fascinating history established by Phoenicians, Africans, Celts, Carthaginians, Greeks, Visigoths, Arabs, and other peoples. Unfortunately, like nearly every other nation and culture, Spain has "traditions" of extreme animal cruelty that are central to their cultural identity. Like Italians who behead geese, Pakistanis who attack bears with dogs, English who hunt foxes, Canadians who kill baby seals, and Americans who fight cocks, many Spaniards are horribly cruel to animals. At their worst, Spaniards – and the moronic tourists who flock to their bloody rites -- can be bloodthirsty barbarians, Dionysian devotees who succumb to mystical rapture during the torture and killing of animals.

Bullfighting is as pervasive in Spain as baseball is in the US, and bullfighters claim the same celebrity status as do sports stars here. But Spain honors unique cruelties that are unthinkable in the US.

Spain seems to be at a crossroads of change, however, as their blood sports have come under fire both domestically and internationally. Spain is a critical test for whether or not human beings can overcome their violent traditions and construct new identities no longer rooted in violence toward other species.

As I write this, thousands of revelers from around the globe swell the streets of Pamplona for the Encierros -- the annual "running of the bulls." By their own estimation, these moral misfits are having the time of their lives while helping to torture and kill bulls during the eight days of the San Fermin festival.

As this dark cloud hovers over northern Spain, where cruelty to animals is a cause for celebration and joy, I shudder in horror over the sad spectacle of human cretinism as I brood over the possibility of a viable future for such a disturbed and demented species. I contemplate how much the future of humanity depends on its ability to end wicked traditions, to stop hating animals and the natural world, and to adopt an ethics of reverence for life. Of course humans are cruel to one another and need to bring peace to interpersonal relations, but their war against nature is far more costly and arguably lies at the root of the current evolutionary impasse. In so many ways, the "animal question" is central to the human question.

Nothing less is at stake than the future of humanity and biodiversity. With its deep-seated traditions that tie the Eros of joy to the Thanatos of death and violence, Spain is a flashpoint for human transformation.

"Of all animals, man is the only one that is cruel. He is the only one that inflicts pain for the pleasure of doing it." --Mark Twain

"Compassion for animals is intimately connected with goodness of character; and it may be confidently asserted that he who is cruel to animals cannot be a good man."-- Arthur Schopenhauer

One automatically associates animal abuse in Spain with bullfighting, but bullfighting is only one form of animal cruelty featured in national "fiestas." Throughout the year, there are ten to twenty thousand fiestas, and every town and village has their own patron saint they honor with prolonged celebrations. Fiestas can be secular or religious in nature, but they always involve animal torture. Perversely, fiestas are most popular during religious holidays and particularly during Easter Week – with nary a word of objection from the Catholic Church. Spaniards also delight in rituals of animal cruelty on October 4, St Francis of Assisi's day, and they mark January 17, the day honoring San Antonio Abad, Spain's patron saint of animals, with chicken beheading competitions.

Animal rights activists in the US are rightly horrified by the animal abuse inherent in circuses and rodeos, but it pales in comparison to the catalogue of evils showcased in Spanish fiestas. Spaniards light the horns of a bull on fire and laugh at his torment while exploding firecrackers. They wrestle ponies to the ground and cut off their manes and tails. They suspend pigeons and squirrels in pots that they pelt with stones until the animals fall. They bury birds with their heads sticking up in order to decapitate them with swords. They throw ducks with clipped wings into the sea so that swimmers can rip them apart in tug-of-war contests. They grease pigs for catching contests that badly maul the animals. They string geese up by their feet and wrench their heads off.

Some fiestas are particularly infamous, such as the goat fiesta of Manganeses de la Polyorosa where villagers throw a goat from a church (!) tower. If the goat survives, it is drowned in the town fountain. Every year in the village of Villanueve de la Vera, drunken revelers drag a donkey into the streets and beat it to a bloody pulp. The "running of the bulls" in Pamplona is held every July. Each day for a week, six terrified fighting bulls are set loose in the cobbled streets as thousands of mindless daredevils try to dodge their deadly horns. The party ends with the brutal killing of the bulls. In the annual Fiesta of San Juan in Coria, Spain, tourists and locals armed with blowpipes shoot bulls with darts until their bodies are a bloody mess, and then they castrate and kill them.

These are dramatic examples of what author Jim Mason (An Unnatural Order: Uncovering the Roots of our Domination of Nature and Each Other) describes as "misothery" – human hatred and contempt for animals. Beginning at least with the emergence of agricultural society ten thousand years ago, human beings constructed their cultural and personal identities to a large degree as species identities, premised upon a sharp line of opposition between their animality and that of all other species. They thereby endowed themselves with special privileges by virtue of their powers of reason, speech, technology, or, in the Christian tradition, their alleged likeness to God. The result is what Mason calls the "dominionist" worldview whereby human beings arrogate to themselves supreme authority over the Earth and its living inhabitants.

A steady decline in reverence for animals is present in the transition from the Egyptian deification of bulls to the Greek naturalization of hierarchy to the bloodletting of the Roman Colosseum where sometimes thousands of animals a day were slaughtered for "entertainment." Once a rigid opposition between human and nonhuman animal is made in theory, it is perpetually established in practice through rituals of domination. Animals become objects onto and through which human beings release and generate aggression. In endless "contests" ranging from bullfighting to rodeos to alligator wrestling, "civilized man" asserts, affirms, and celebrates his superiority over "wild nature."

The tragic flaw in the human species is its historical need to define itself not only as radically different from all other species, but also as infinitely greater and more advanced. This schizophrenia is a general human phenomenon, but Spaniards have elevated cruelty to an "art form," which in fact is how they view bullfighting.

Dr. Steven Best is Associate Professor and Chair of the Philosophy at University of Texas, El Paso.